Close your deals in messengers
Connect your CRM to WhatsApp, Telegram, Microsoft Teams, Slack, Discord, Viber and other messengers to sync messages, add contacts and deals on the fly, schedule tasks, manage tickets and track activities.
Connect WhatsApp, Telegram, Viber, Teams to:
Onlizer Chats available now in beta mode. Request access to empower your communication
One connected platform that empowers everyone to innovate
Creating apps for your business just got easier. A powerful, point-and-click approach to app building makes it easy for anyone. Create automated integrations between your favorite apps and services to get notifications, synchronize files, collect data, build reports and more.
Connect
Easily connect different apps & messengers into unified ecosystem
Boost
Speed up communications, keep engagement and close deals faster
Achieve
Dramatically improve performance of your business in multiple channels
Chats
Talk with your customers and close deals faster with
omni-channel communication
Onlizer Chats connects your CRM, HelpDesk, ERP, communication, marketing and sales software or any services to WhatsApp, Discord, Telegram, Viber and other messengers to sync messages, add contacts and deals on the fly, schedule tasks and track activities.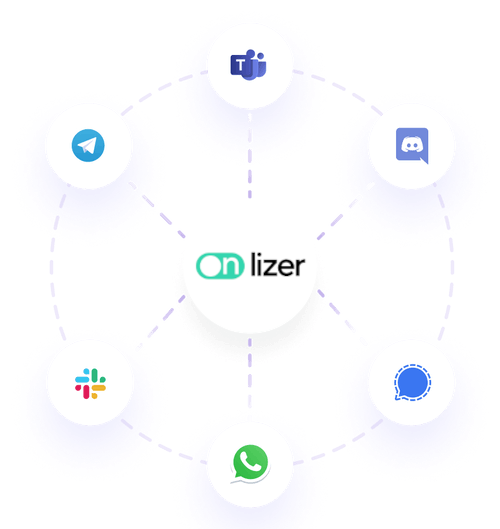 Take Care About Sales, We Will Cover Technologies
We provide tools to connect messengers with your apps ecosystem to enable smooth multi-channel communication experience for both businesses and customers
The Easy and Efficient Way To Connect Messengers
Onlizer Chats components are natively integrated into services you use every day. You can import messages and answer directly from CRM, ERP, ServiceDesk apps like Salesforce, Hubspot, Zoho CRM, Zendesk, ConnectWise Manage.

Integrated directly into services you use Onlizer Chats modules allows to receive and answer to messages from multiple messengers and automatically save them into accounts, leads, contacts, customers and tickets, view and upload images and documents.
As all chats data is imported and stored in your CRM or ServiceDesk you can build reports to analyze efficiency of communication channels.
Simple pricing
receive 2 month free bonus when paid annually. All features are available
with any pricing plan — no limits for your imagination, no hidden fees
You can request access to Onlizer Chats Beta right now
No credit card and no forward payments required for access request
Message is a basic unit used by Onlizer Chats. Every time you send or receive message with individual receiver or group chat with Onlizer your integration will use 1 Message.
Yes, Onlizer Chats provides ability to send and receive files of types that supported by connected messengers
Yes, you can. Messages sending to group chats available for WhatsApp numbers, Telegram, Slack, Microsoft Teams, Skype and Discord. WhatsApp Business API and Viber do not support group chats.
To estimate monthly messages usage you need to know expected amount of messages sent and received monthly for messengers you plan to connect
Best way to try it live - activate free trial and see Onlizer Notify in action
"Basic" support are provided by Onlizer CSM team.
It's free, available for every client and includes:
Account setup & access problems;
Pricing consulting and costs estimation;
Resources usage clarification;
Help with features of Onlizer Portal, Onlizer Connect and other Onlizer services;
"Premium" support includes all "Basic" features, and also additional services:
Reaction on customer support request during 4 bussiness hours;
Integrations setup consulting - free up to 2 hours per month.
Let's Try! Get Free 50 Messages, 1000 Tasks
Start Your 30-Days Free Trial
We can help you to create your dream processes for better business revenue.
Free 30-days trial

No credit card required

Support 24/7