Don't miss important events and receive them in WhatsApp
Notify your team, customers and yourself about events from hundreds of services into groups and individual chats in WhatsApp, Microsoft Teams, Slack, Telegram, Discord and other messengers
Try now with 50 free messages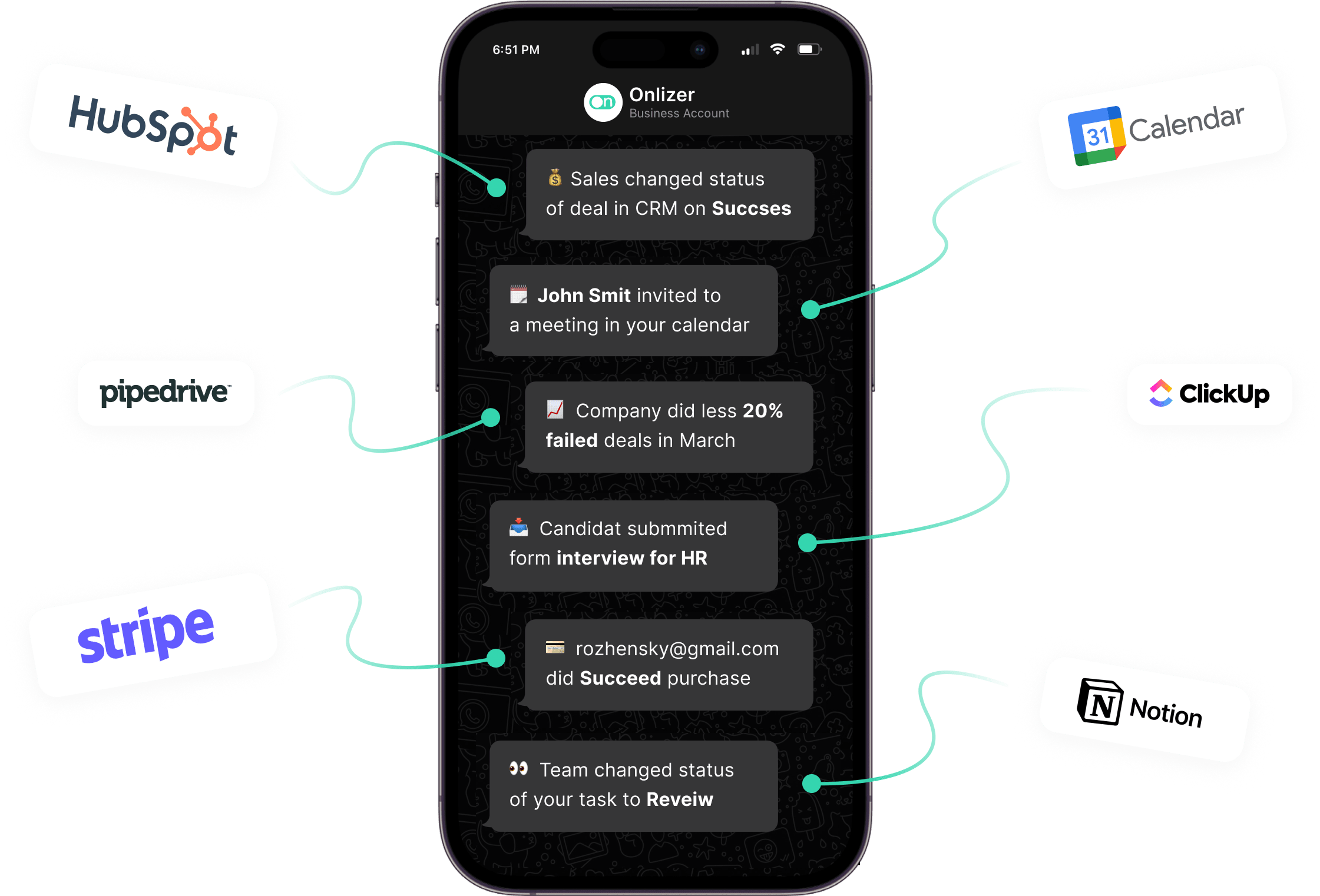 Notify
Track important events in
hundreds of services

and send them to

multiple messengers

Send and receive notifications about events that really matter, when you need it, in any channel. Onlizer Notify provides you with an easy setup to track events and deliver notifications to WhatsApp, Telegram, Viber, Microsoft Teams, Skype and other channels.





Easy setup

and customize all notifications options
Filter events by flexible conditions or build a custom schedule
Add multiple receivers by number, from your contacts, chats and groups or map receiver data from incoming event
Upload and send images, video, documents and reports to share meaningful data with receivers
Include any data, fields and links from event into message to send all important information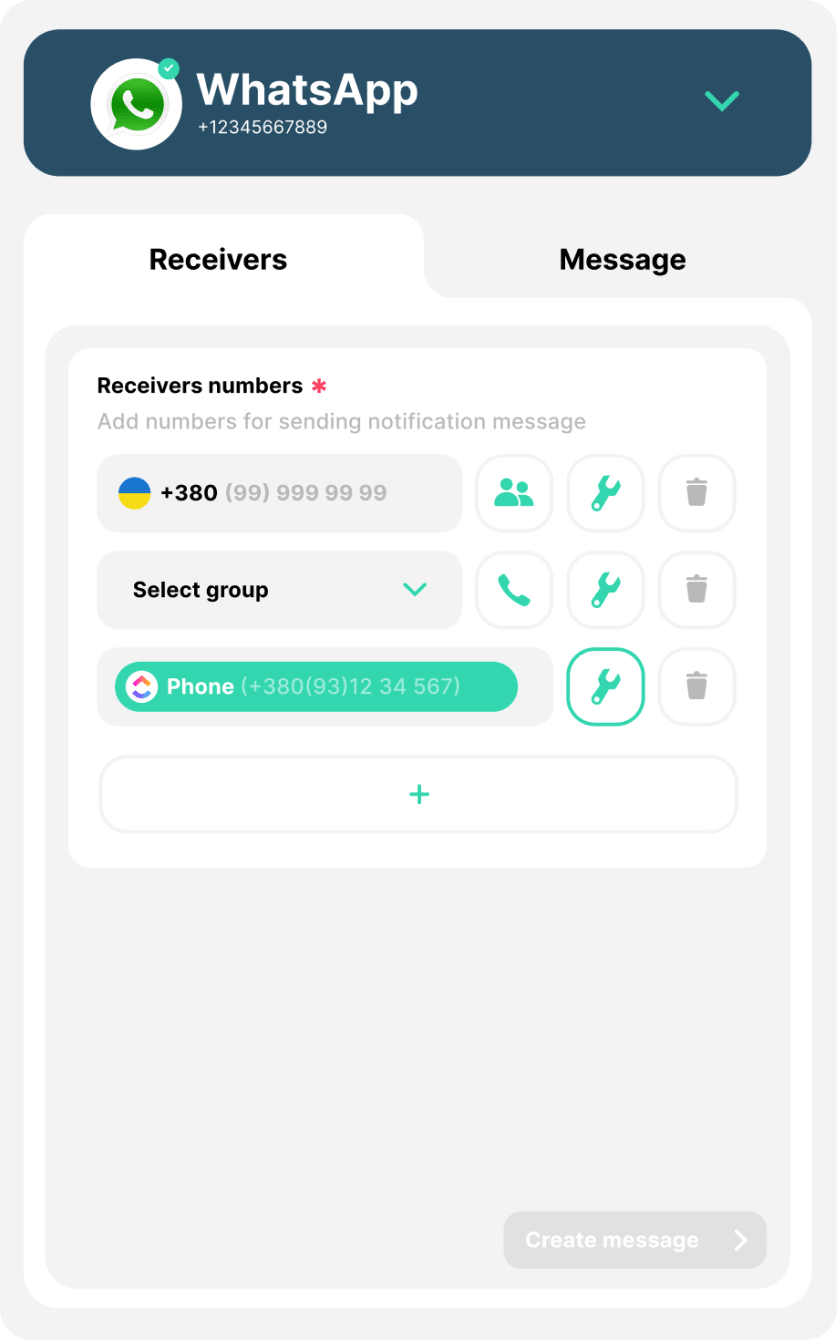 Track events

and send notifications just in time
Send WhatsApp reminder about upcoming meeting in Google Calendar
Export Power BI report daily and share a copy to stakeholders
Send WhatsApp notification when task upcoming in ClickUp
Send PDF recipe to customer when order paid in Microsoft Dynamics 365
Track messages in different channels like GMail, email, Telegram or Skype and forward them to WhatsApp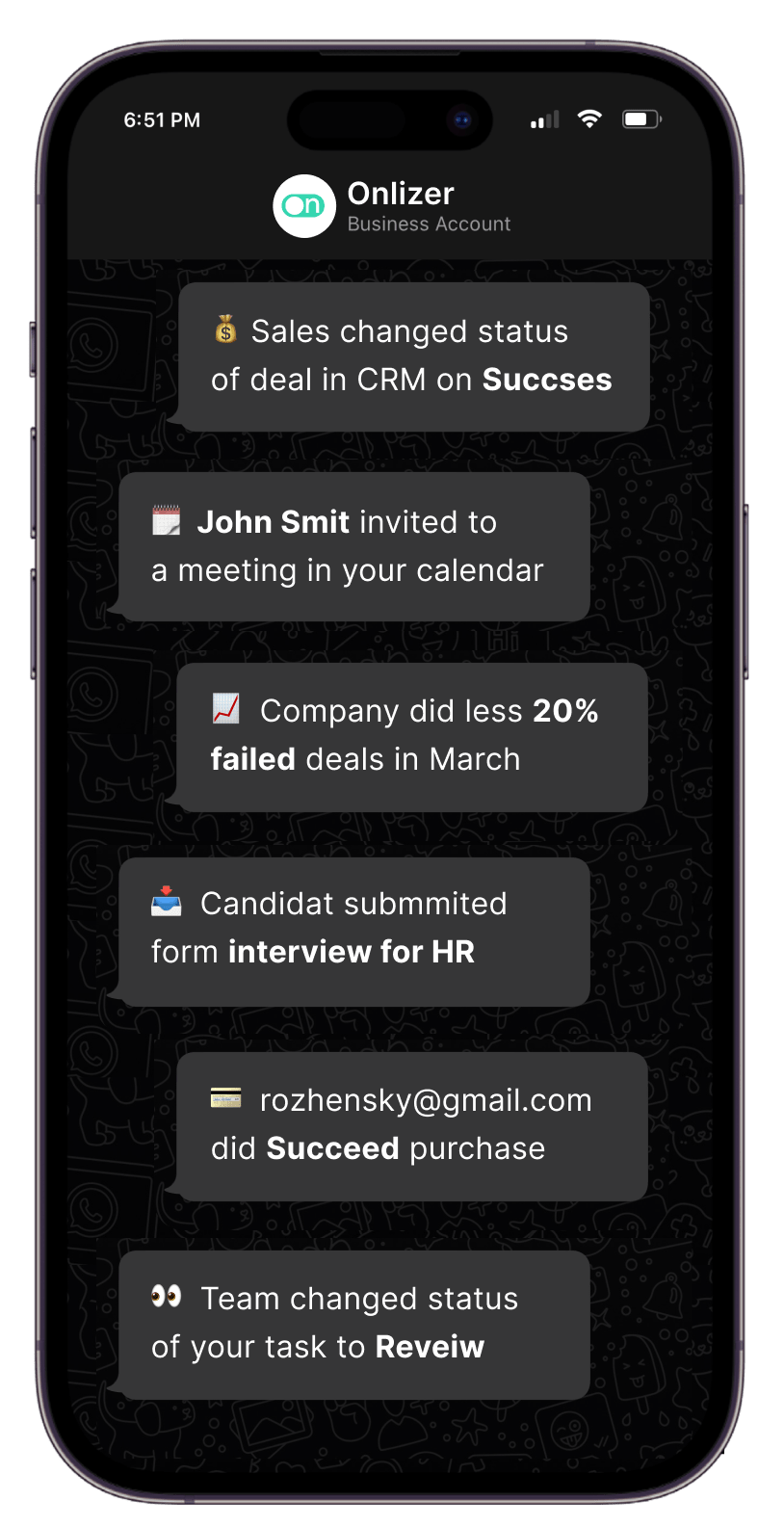 Connect
own WhatsApp number

or select one of

WhatsApp Business Cloud

providers
You can select provider that suits best for your scenario and securely purchase or connect WhatsApp numbers and send WhatsApp notifications
Simple pricing
receive 2 month free bonus when paid annually. All features are available
with any pricing plan — no limits for your imagination, no hidden fees
You can start with free trial for 30 days with 50 messages available
No credit card and no payments required for registration
Message is a basic unit used by Onlizer Notify. Every time you send notification to individual receiver or group chat with Onlizer your integration will use 1 Message.
Yes, Onlizer Notify provides simple but flexible interface to customize messages, integrate data from received event and add files
Yes, you can. Notifications sending to group chats available for WhatsApp numbers, Telegram, Slack, Microsoft Teams, Skype and Discord. WhatsApp Business API and Viber do not support group chats.
To estimate monthly notifications usage you need to know:
Amount of events that will trigger notifications monthly
Number of receivers, individuals or groups
Estimated messages count used monthly equals events amount multiplied by receivers count (group chat counts as one receiver).
Best way to try it live - activate free trial and see Onlizer Notify in action
"Basic" support are provided by Onlizer CSM team.
It's free, available for every client and includes:
Account setup & access problems;
Pricing consulting and costs estimation;
Resources usage clarification;
Help with features of Onlizer Portal, Onlizer Connect and other Onlizer services;
"Premium" support includes all "Basic" features, and also additional services:
Reaction on customer support request during 4 bussiness hours;
Integrations setup consulting - free up to 2 hours per month.
Let's Try! Get Free 50 Messages, 1000 Tasks
Start Your 30-Days Free Trial
We can help you to create your dream processes for better business revenue.
Free 30-days trial

No credit card required

Support 24/7